VIKTOR AMBARTSUMIAN INTERNATIONAL PRIZE 2014
AWARD CEREMONY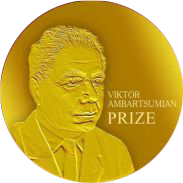 On September 17, Viktor Ambartsumian International Prize 2014 was awarded to Felix AHARONIAN (Ireland/Germany) and jointly to Igor KARACHENTSEV (Russia) and Brent TULLY (USA). Viktor Ambartsumian International Prize has been established by the President of Armenia in 2009 and at present is one of the important awards in astronomy/astrophysics and related sciences. It is being awarded to outstanding scientists from any country and nationality having significant contribution in science. The Prize totals USD 500,000 and since 2010 is being awarded once every two year. This time it was shared between the three winners.

Early in July, the International Steering Committee chaired by the President of the Armenian National Academy of Sciences Prof. Radik Martirosyan had decided to share the Prize between Prof. Felix Aharonian (Dublin Institute for Advanced Studies, Ireland and Max Planck Institute for Nuclear Physics, Heidelberg, Germany), nominated by Academia Nazionale Dei Lincei (Italy) for "outstanding contributions to the field of high energy astrophysics and to the physics of cosmic accelerators, and leading role in the development of the stereoscopic system of Cherenkov telescopes" and jointly Prof. Igor Karachentsev (Special Astrophysical Observatory, Russia) and Prof. Brent Tully (Institute of Astronomy, University of Hawaii, USA) nominated by the Special Astrophysical Observatory (Russia) for "their fundamental contribution in the cosmology of the Local Universe".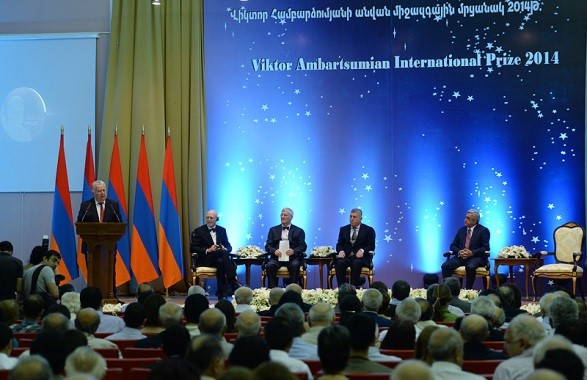 The official award ceremony took place on September 17 in Yerevan, at the big hall of the Armenian National Academy of Sciences (NAS RA). Some 400 people were present, including the RA President Serzh Sargsyan, NAS RA President Prof. Radik Martirosyan, Ministers, Ambassadors, NAS RA members, other scientists, International Astronomical Olympiads participants, journalists and honorary guests. The Ceremony started with the Armenian national anthem followed by the speech of Prof. Radik Martirosyan who presented the principles of the Viktor Ambartsumian International Prize and noted that all three laureates work at the forefront of modern astronomy and all three have authored numerous scientific inventions. Then followed President Serzh Sargsyan's welcome speech; he congratulated the winners and awarded the medals and certificates. The President hoped that after receiving the prizes they would put more efforts to continue their scientific activities aimed at improving the quality of life around the world. At the end, Prof. Felix Aharonian, Prof. Igor Karachentsev and Prof. Brent Tully presented short talks on their research and results that were nominated for the Prize.

There were several other events that accompanied the Award Ceremony such as the press-conference by the Prize Winners at NAS RA on Sep 17, the dinner given by the RA President for the Prize Winners, academicians, scientists and other invited guests on Sep 17 evening, the visit of Prize Winners to Byurakan Astrophysical Observatory on Sep 15, Scientific Talks at Yerevan State University on Sep 16, the dinner given by the NAS RA President for the Prize Winners on Sep 16 evening, and visits to Armenian sightseeing.